The Coworking Commute by E-bike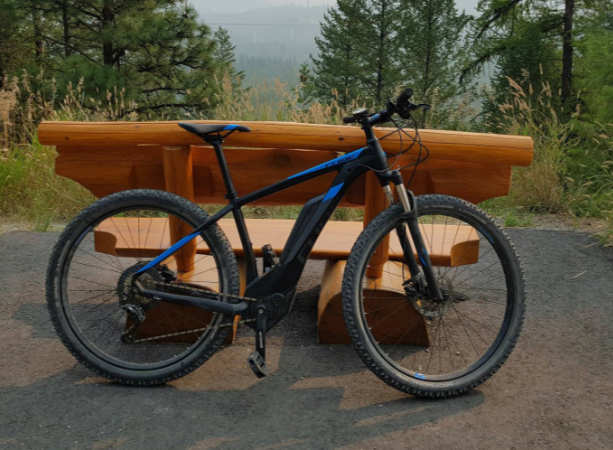 After taking up residence at Ground Floor Coworking Space in Cranbrook back in April I thought I had better give the commute from Kimberley on the Rails to Trails a go to see if it was a feasible option.
Out came the Canadian Tire special, 6 months and 2500km of daily pedal powered commutes later the answer is yes.
I love the ride, a little under an hour and a half from Kimberley to the office in the morning gave me lots of time to plan the day ahead, what website projects we are working on, SEO campaigns that needed scheduling, meetings and training sessions to book, so by the time I got into work the day was planned.
The ride back at the end of the day is a bit more of a challenge, more of an uphill ride than the way down. Throw in a quite common head wind and that return leg could take over 90 minutes. Still one of the best commutes I have been lucky to experience on an almost daily basis.
Over the past few months, Cowork Marketing has been working with the awesome team at Black Dog Cycle and Ski in Kimberley and got the opportunity to take one of their sweet Cube e-bikes for a few test rides.
I'm sold! Hands down changed the normal bike commute from a sweat inducing battle against the headwinds and those long calf cramping inclines to a steady comfortable cruise. The minute you pedal into an incline the silent motor kicked in and your cruising speed stayed constant without having to put in any more effort. Don't get me wrong, you still pedal, it is still a workout. Think of it more like the e-bike just took the entire length of the trail and flattened it out.
The best thing was the battery life. On tour mode (one up from super economy) the ride from Kimberley to Cranbrook was on average 20 minutes shorter and only used up 20% of the charge. On turbo mode the ride was down to under an hour and only using up 30% of the charge. Turbo mode it was for the next couple of rides, easily doing the return trip on a single charge.
Next year's commute will be by e-bike for sure!

Big Shout Out to Ang, Perry, Dave and the team at Black Dog Cycle and Ski!
---